Company management in Clickup
Companies use countless tools for project management. Popular applications include Jira, Youtrack, Asana, Trello, etc. However, these are gradually becoming obsolete and their interface can sometimes be a bit confusing.
On the other hand, progressive tools such as Monday, AirTable or the mentioned ClickUp.
Clarity was the main goal of ClickUp founder Zeb Evans, so he founded ClickUp in 2017. Already in 2021, with his product, he managed to become one of the most used design apps in the world, having surpassed the 200,000 registered companies mark. These are not small companies, but often companies with big names. For example, Netflix, Nike, Booking, IBM, and Samsung use ClickUp for project management.
What has won the trust of so many large companies in such a short time?
First of all, it's the simplicity and clarity I mentioned earlier. For example, our corporate ClickUp hides dozens of projects and hundreds of interrelated tasks. Yet it takes new employees a matter of minutes to navigate the application.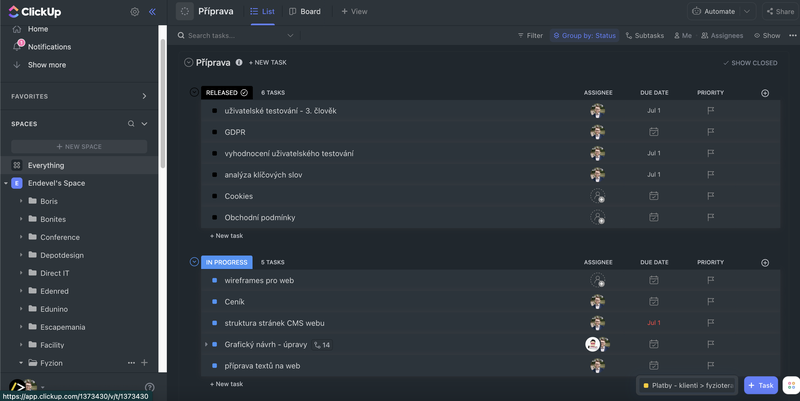 ClickUp is also incredibly flexible. It has a huge range of options for how to work with it, so it's a good idea to create your own handbook that describes how your business works with it. It may be that another company is using the app a little differently, and so a new person has to jump on a train that's running on a slightly different track. On the other hand, it is because of its flexibility that the app can cater to virtually any company and improve its business processes.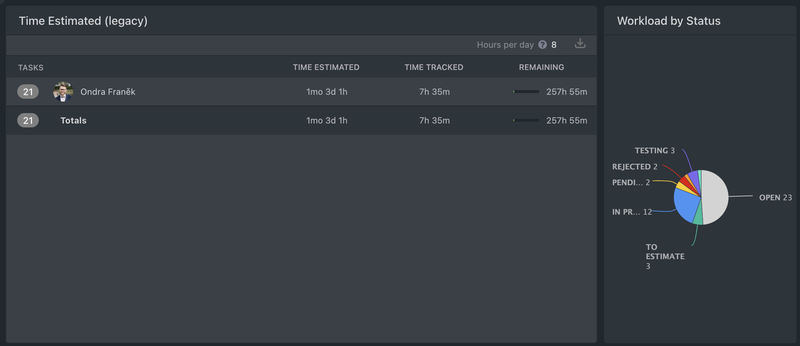 Interesting functionalities of ClickUp:
Working with time - we keep track of the time estimate of the task and the actual measured time burned on the task. By constant repetition, we can improve the estimates of the difficulty of given functionalities.
Dependencies - this task cannot start until another task is completed. Essential for proper development sequencing.
Automation - if the developer has completed the estimation and switched the task to estimate, automatically add the project manager. Well-set automation can really save a lot of time, but most importantly reduce "dead" spots where a task just waits unnecessarily for another nudge or information.
Global settings - the app allows you to create spaces where you can define task states at will. Obviously, for the manager space (sales, marketing, HR, etc.) you will need completely different states for tickets than in the development space.
Goals - you can create goals based on any settings you want. For example, when you are developing a new application or some phase of it, you set the goal to have no open tickets in the project. The goal shows you a percentage of how far you are. You can also associate goals with values other than the number of tasks in the project. For example, hours worked, sprint points, or budget.
Priorities, due date, start date - you don't have to keep track of when developers have things to work on. With properly set priorities and start and end dates, it won't happen that a developer doesn't know what task he or she is supposed to be working on.
At this website the ClickUp users can gather suggestions for improvements or new features. The community around the tool is very active and we are happy that Endevel is part of it.
✖